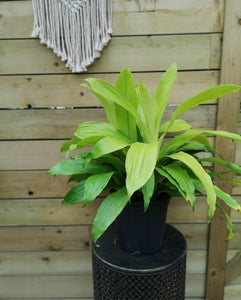 The Limelight Dracaena sports long sword-shaped leaves that emerge a lemon yellow, and then change to a bright chartreuse colour as they age.  This easy to care for plant thrives in lower light conditions, making it the perfect plant for those darker spaces in your home or office.
If you need any more photos or additional information on this product, send us a message using the chat button on our website with the product name, and we will get back to you as soon as possible.
This plant has a representative product photo and the item you will receive may not be exactly as shown.
Attributes
Type:
Tropical
Height:
 3ft - 8ft
Spread:
 2ft - 4ft 
Light:
Medium Indirect (can tolerate low)
Water:
Moderate
Zone:
 9 - 11
Pet Safe:
 Mildly toxic to pets if ingested.
Care
General Maintenance:
 Proper watering is key to keeping dracaenas full and happy, so be sure not to overwater them.  Prune away any brown leaves if neccessary.   Propagate by taking a top cutting with a node intact and rooting the cutting in water before planting into soil.  
Temperature:
Thrives in normal household temperatures, between 18º-26º Celsius.  Don't let the temperature drop below 15°C.  Keep away from drafts and drastic temperature changes.
Light:
 Will flourish in low-bright indirect light.  Dracaenas are a great choice for those lower light spaces in your home, however they will grow slower in lower light.   Direct sun can scorch their leaves.
Watering:
 Water thoroughly, then allow the soil to dry almost entirely in between waterings.  Ensure your pot has proper drainage to allow excess water to drain out. They do well in normal household humidity levels but will appreciate an occassional misting.
Soil:
 Any well-draining potting mix will work.  
Fertilizer:
 Feed with a balanced liquid fertilizer once a month during the spring and summer months.  Do not feed during the fall and winter. 
| | |
| --- | --- |
| Item (42874) | Sold out |
---