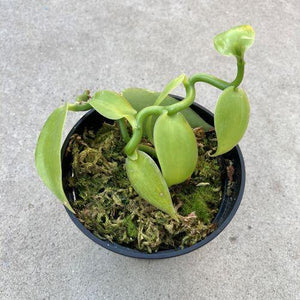 Secure and trusted checkout with
While this plant will likely not produce vanilla beans for you, it's glossy green leaves will vine beautifully.
If you need any more photos or additional information on this product, send us a message using the chat button on our website with the product name, and we will get back to you as soon as possible.
This plant has a representative product photo and the item you will receive may not be exactly as shown.
Attributes
Type:
Houseplant
Height:
Up to 10ft long
Spread:
Up to 10ft long
Light:
Bright Indirect
Water:
Moderate
Zone:
11 - 12
Pet Safe:
Toxic
Care
General Maintenance:
Keep trimmed to your desired length.
Temperature:
Keep between 16°C and 35°C. This plant will not tolerate cold temperatures.
Light:
Bright indirect is best, though this plant will tolerate some morning sun.
Watering:
Allow the soil to dry out slightly between watering, but mist this plant regularly or use a pebble tray or a humidifier as it requires a lot of humidity to thrive.
Soil:
A more soil-heavy orchid mix is best, or make your own mix with half orchid bark and half soil. This plant requires something very well draining to prevent root rot.
Fertilizer:
Fertilize every two weeks with an orchid fertilizer in the spring and summer.
| | |
| --- | --- |
| Item (42830) | Sold out |
---