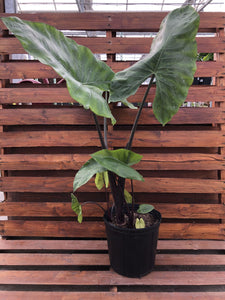 The Alocasia Black Stem is a rare and unusual variety of elephant ear with distinct variations from the typical. It has rigid and dark stems which highlight the dark green foliage.
If you need any more photos or additional information on this product, send us a message using the chat button on our website with the product name, and we will get back to you as soon as possible.
This plant has a representative product photo and the item you will receive may not be exactly as shown.
Attributes
Type:
Tropical
Height:
4-5 ft
Spread:
3-4 ft
Light:
Bright indirect
Water:
Medium
Zone:
9b - 11
Pet Safe:
Mildly toxic, causes irritation on the mouth if ingested. Keep away from children and pets.
Care
General Maintenance:
Very easy to grow and requires little care. Repot in the spring if the plant has become quite root bound. These are usually propagated by dividing the plant when it's being re-potted in spring.
Temperature:
Average temperatures between 18º - 24º Celsius are ideal for this plant.
Light:
Needs bright conditions, but no direct sun.
Watering:
Keep the soil consistently moist during the growing season. Water less in the winter. These plants like extra humidity so consider a weekly misting or using a pebble tray filled with water.
Fertilizer:
Feed with a diluted balanced fertilizer every 2 weeks during the growing season (May-Aug) and stop feeding during the other months.
Soil:
Thrives in soil high in organic matter.
| | |
| --- | --- |
| Item (46355) | Sold out |
---