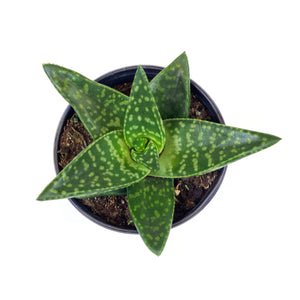 Secure and trusted checkout with
Aloe Vera Tiki Zilla has broad, dark green foliage with attractive white bands.
If you need any more photos or additional information on this product, send us a message using the chat button on our website with the product name, and we will get back to you as soon as possible.
This plant has a representative product photo and the item you will receive may not be exactly as shown.
Attributes
Type:
Tropical
Height:
9in - 12in
Spread:
12in - 18in
Light:
Bright indirect
Water:
Low
Zone:
10 - 12
Pet Safe:
Moderately toxic to pets
Care
General Maintenance:
Repot only when rootbound. Side shoots can be removed carefully (ensuring they still have some root) and repotted.
Temperature:
Ideal temperature range is 21°C - 26°C.
Light:
Prefers bright light, but indirect.
Watering:
Water very sparingly, only when the soil is completely dry. Thoroughly water once soil is dry at least 3/4 down. Water even less during the winter.
Fertilizer:
Can use a liquid fertilizer once a month during the growing season (May to Aug).
Soil:
Use a cactus mix, or any potting soil with good drainage. Can add perlite to an all-purpose potting soil to improve drainage.
| | |
| --- | --- |
| Item (47220) | Sold out |
---