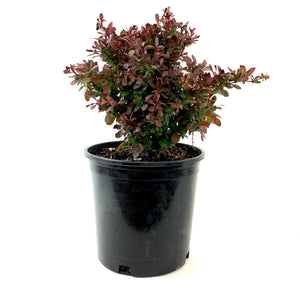 A wonderful thorny shrub with attractive deep crimson foliage and bright red berries in fall and winter. Compact, rounded form makes a wonderful low hedge. Prefers a moist, well-drained soil, but tolerates drought once established.
Attributes
Type: Deciduous Shrub
Growth Habit: Rounded
Mature Height: 1m (3 ft.)
Mature Spread: 1m (3 ft.)
Zone: 3
Feature Characteristics: Deer Resistant, Rabbit Resistant, Drought Tolerant, Attracts Birds
Ornamental Features
Flower Colour: Yellow
Flowering Time: April - May
Foliage Colour: Deep crimson red
Fruit: Ornamental red berries in the fall
Care
General Maintenance: Prune annually in late winter to shape.
Light: Full sun or lightly shaded location. Best leaf colours will develop in full sun.
Watering: Water deeply and regularly during the first growing season to establish an extensive root system. Once established, reduce frequency; tolerates heat and moderate drought.
Soil: Thrives in average, well-drained soil; avoid poorly drained, wet sites.
Fertilizer: Feed in early spring with an all purpose fertilizer prior to the new growth.

| | |
| --- | --- |
| Item (782921015836) | 1 in stock. |
---