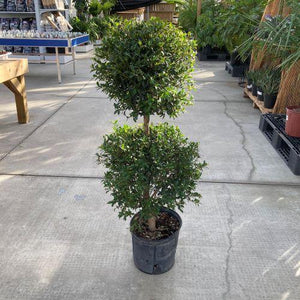 This bonsai is trimmed into the shape of two balls with leaves that are a rich, green colour. It is used as a topiary to brighten up the yard!
If you need any more photos or additional information on this product, send us a message using the chat button on our website with the product name, and we will get back to you as soon as possible.
This plant has a representative product photo and the item you will receive may not be exactly as shown.
Attributes
Type:
Evergreen / Topiary
Height:
Up to 15ft - 20ft (but can be kept trimmed to a desired height)
Spread:
Discretion of the owner (trimmed as a topiary)
Light:
Full Sun to Partial Sun
Water:
High
Zone:
7 - 11
Pet Safe:
Toxic. Keep away from pets.
Care
General Maintenance:
Keep trimmed in whatever shape you desire (this bonsai is generally conical).
Temperature:
Generally not picky on temperature, but should be covered at temperatures below 1°C. During the winter, the plant should be moved indoors. Repot in early spring every 2-3 years.
Light:
Needs some direct sunlight daily (minimum of 4-5 hours). Plants will drop leaves if there is not sufficient light. Full sun should be in the morning or late afternoon to prevent scorching.
Watering:
Needs to be kept moist. Once the top 1/2 inch or so of soil is dry, water thoroughly. Once the plants are established they become more drought tolerant.
Fertilizer:
Use a diluted, balanced fertilizer once a month during the growing season. Do not fertilize in the winter.
Soil:
Prefers a well-draining garden soil. They also prefer soil that is on the acidic side (pH of 5.5 - 6.5).
| | |
| --- | --- |
| Item (123456397651) | Sold out |
---