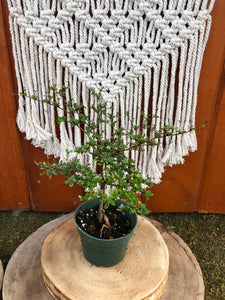 Secure and trusted checkout with
The Black Olive Bonsai has lush, dark bluish-green, leathery leaves are clustered at branch tips, sometimes mixed with long spines found along the branches.
If you need any more photos or additional information on this product, send us a message using the chat button on our website with the product name, and we will get back to you as soon as possible.
This plant has a representative product photo and the item you will receive may not be exactly as shown.
Attributes
Type:
Tropical
Height:
8in - 24in
Spread:
12in - 30in
Light:
Full Sun to Partial Sun
Water:
High
Zone:
10 - 11
Pet Safe:
Not known to be toxic to pets
Care
General Maintenance:
Repot only once rootbound.
Temperature:
Keep above 5°C.
Light:
Full sun is ideal. Bright indirect will also work, but bonsai need lots of light to thrive. They will not do well in low light locations.
Watering:
Keep consistently moist, but not soggy or waterlogged. An old bonsai watering trick is to place the entire pot in a sink of water an inch or two deep and let the water absorb from the holes in the bottom of the pot. Reduce watering in the winter.
Fertilizer:
Fast-draining soil, slightly calciferous (high sand and lime content).
Soil:
When new growth appears in the spring, it's time to start feeding your bonsai. Use a liquid bonsai fertilizer or half-strength general purpose plant food every two weeks from spring to autumn. Do not fertilize for three months after repotting.
| | |
| --- | --- |
| Item (46311) | Sold out |
---