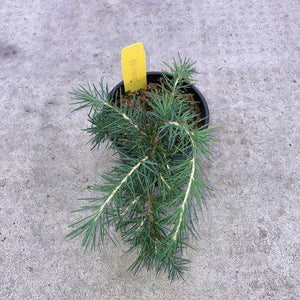 Secure and trusted checkout with
The "Feelin' Blue" bonsai is a unique variety that showcases lightly coloured bark and dark blue-green, needle-like foliage. This is a dwarf variety of the Deodar Cedar.
If you need any more photos or additional information on this product, send us a message using the chat button on our website with the product name, and we will get back to you as soon as possible.
This plant has a representative product photo and the item you will receive may not be exactly as shown.
Attributes
Type:
Tropical
Height:
Up to 6ft
Spread:
Up to 6ft
Light:
Direct to bright indirect
Water:
Moderate
Zone:
6 - 9
Pet Safe:
Toxic
Care
General Maintenance:
Repot only once the plant has become rootbound, as this plant does not like to be uprooted too often. Repot in the spring. Generally does not need any pruning (too much pruning can cause death).
Temperature:
Not generally picky on temperature. Quite tolerant to a broad range of temperatures.
Light:
Needs bright indirect light, with some full sun. Aim for at least 6 hours of full sun per day.
Watering:
Likes the soil to be kept moist, but not soggy. Water only once the soil become dry to the touch. Once the bonsai is established, they are more drought tolerant.
Fertilizer:
Fertilize once in the spring. Too much nitrogen can cause root burn, so be wary of over-fertilizing.
Soil:
Well-draining soil is preferred. Bonsai like their soil to be on the acidic side.
| | |
| --- | --- |
| Item (42932) | Sold out |
---