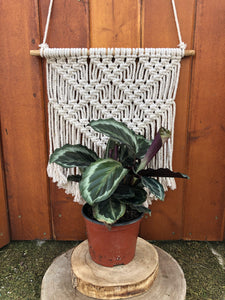 Secure and trusted checkout with
Calathea Medallion is a perfect houseplant for pattern lovers who like to decorate with a wild theme. Its dark leaves have pale green detailing and a rich burgundy underside.
If you need any more photos or additional information on this product, send us a message using the chat button on our website with the product name, and we will get back to you as soon as possible.
This plant has a representative product photo and the item you will receive may not be exactly as shown.
Attributes
Type:
Tropical
Height:
Up to 24in
Spread:
18in - 24in
Light:
Bright/Medium Indirect
Water:
Moderate
Zone:
11-12
Pet Safe:
Non-Toxic
Care
General Maintenance:
Remove any yellow or brown leaves that occur. Repot when rootbound.
Temperature:
 Keep in moderate temperatures of 18°C - 25°C.
Light:
 Foliage is prone to sunburn, so keep these plants away from direct sunlight. Bright to medium indirect light is best, but they can tolerate low light.
Watering:
 Water moderately when the top 1-2 inches of soil are dry. Keep moist, but never soggy. Water less in the winter. This plant does not love tap water, so it is best to use distilled water or to let tap water sit for 24 hours before using it to water your plant. This plant loves humidity. Extra humidity can be provided via a pebble tray or light misting.
Fertilizer:
 Fertilize with a balanced, diluted fertilizer once every 3-4 weeks during the growing season (April through August).
Soil:
Any well-draining, but organic soil that holds moisture will work. Look for one that is peat-based but has perlite and/or orchid bark added for drainage.
| | |
| --- | --- |
| Item (46286) | Sold out |
---