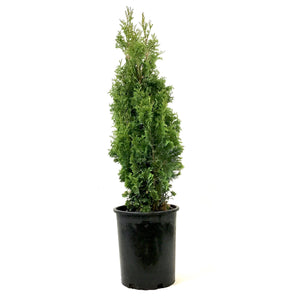 A beautiful, tall, narrow form, perfect to plant between buildings. The rich green foliage takes on a purple cast in winter. Its twisted texture on the pyramidal form tolerates shearing nicely, for a more tailored column. Cold hardy and reliable. Ideal as matched pairs or planted in multiples for an attractive screen.
Attributes
Type: Evergreen Shrub
Growth Habit: Upright, Narrow
Mature Height: 3 - 5m (10 - 16ft.)
Mature Spread: 1m (3ft.)
Zone: 3

Ornamental Features
Foliage Colour: Rich green, with a purple cast in winter.

Care
General Maintenance: Little pruning is necessary but can be sheared to keep denser. Mulch around root zone to conserve moisture. Shelter from harsh, drying winds.
Light: Full sun
Watering: Water deeply and regularly during the first growing season to establish an extensive root system.
Soil: Thrives in deep, enriched, evenly moist, well-drained soil; dislikes dry conditions.
Fertilizer: Feed in early spring with an all purpose fertilizer prior to the new growth.

| | |
| --- | --- |
| Item (52501) | Sold out |
---