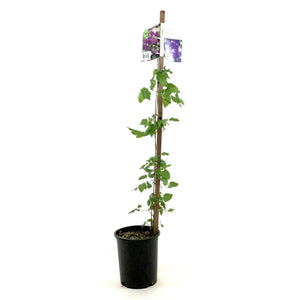 The dark purple flowers similar to but much darker than Jackmanii on a vigorous plant makes this a worthwhile addition. Bred at the Kiev Botanical Garden in the Ukraine. Pruning group C.
Attributes
Type: Deciduous Vine
Growth Habit: Climbing
Mature Height: 3 - 4m (9 - 12 ft.)
Zone: 3
Pruning Group: C

Ornamental Features
Flower Colour: Dark purple.
Flower Size: 8 - 10cm (3 - 4 in.)
Flowering Time: July - September
Foliage Colour: Green

Care
General Maintenance: Provide the support of a trellis or arbor. Roots prefer a cool, shaded area, tops in the sun. Mulch to conserve moisture. Remove spent blooms to promote continuous bloom. Prune only weak or dead stems as soon as blooming is finished.
Light: Full sun to partial sun.
Watering: Water deeply and regularly during the first growing season to establish an extensive root system. Once established, reduce frequency.
Soil: Thrives in average, well-drained soil.
Fertilizer: Feed regularly beginning in spring up until buds are formed.

| | |
| --- | --- |
| Item (52567) | Sold out |
---