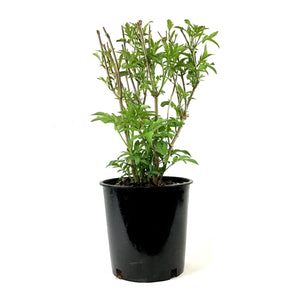 Upright spreading shrub with arching branches. Abundant clusters of small creamy white colored flowers in spring. Showy clusters of red fall berries attracts wildlife. Attractive deeply lobed compound green foliage turning yellow in fall. Native to many parts of North America.
Attributes
Type: Deciduous Shrub
Growth Habit: Upright
Mature Height: 3m (10ft.)
Mature Spread: 1.5m (5ft.)
Zone: 3
Feature Characteristics: Deer Resistant, Rabbit Resistant, Drought Tolerant, Attracts Birds
Ornamental Features
Flower Colour: Creamy white
Flowering Time: June - July
Foliage Colour: Green
Fruit: Ornamental red berries in the fall.

Care
General Maintenance: Little pruning is necessary but can be cut back to near ground level every year or every few years in spring to rejuvenate and promote vigorous new growth.
Light: Full sun to partial sun.
Watering: Water deeply and regularly during the first growing season to establish an extensive root system; reduce frequency once established.
Soil: Grows best in loamy, moist soils.
Fertilizer: Feed in early spring with an all purpose fertilizer prior to the new growth.

| | |
| --- | --- |
| Item (775631001503) | Sold out |
---