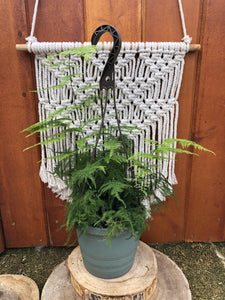 The Asparagus Fern, which is technically not an actual fern, has light green and feathery foliage that elegantly drapes over a hanging basket. 
This plant has a representative product photo and the item you will receive may not be exactly as shown.
Attributes
Type:
Tropical
Height:
 24in - 36in
Spread:
 24in - 48in
Light:
Bright Indirect
Water:
Moderate
Zone:
 9 - 11
Pet Safe:
  Toxic if ingested
Care
General Maintenance:
 Ferns can be repotted once every couple years, but they will actually do fairly well being a little pot bound. Prune any dead stems to encourage new growth. 
Temperature:
 Prefers temperatures around 21°C, and will not withstand temperatures below 13°C for long. 
Light:
 Your plant will appreciate a bit of time in the morning sun, but too much sun can cause leaf scorching. For most of the day, keep your plant in a bright spot with indirect/filtered sunlight. These plants will do well with a fairly low amount of light, but they thrive best with a bit of sun. 
Watering:
 Ferns do not like to dry out, so keep your soil evenly moist at all times. Ensure that your pot has good drainage to avoid your plant getting waterlogged. These plants enjoy some humidity and will do well with being misted every day or two. Water slightly less during the winter. 
Soil:
 Prefers a light, well-draining, organically rich soil. Something peat-based and mixed with perlite is a good choice. 
Fertilizer:
 Feed with a diluted balanced liquid fertilizer every 3 weeks during the growing season (April to August).
| | |
| --- | --- |
| Item (46385) | Sold out |
---