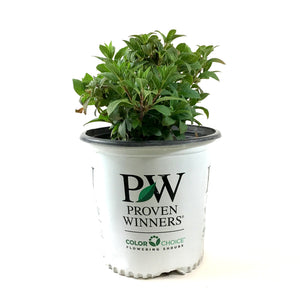 Dwarf form of Quick Fire® Hydrangea, and like the larger form, it blooms about a month before any other panicle hydrangea - usually by the beginning of July. Creamy white blooms turn to pink with red highlights as summer progresses. This dwarf plant fits easily into any landscape, including container gardens. Add it to your existing hydrangea garden to extend the blooming season. A Proven Winners® variety.
Attributes
Type: Deciduous Shrub
Growth Habit: Upright
Mature Height: 1 - 1.25m (3 - 4 ft.)
Mature Spread: 1 - 1.25m (3 - 4 ft.)
Zone: 3
Feature Characteristics: Cut or Dried Flowers, Attracts Butterflies, Repeat Bloomer
Ornamental Features
Flower Colour: Creamy white, turning to pink with red highlights.
Flowering Time: July - September
Foliage Colour: Green

Care
General Maintenance: Prune in late winter or early spring. These shrubs bloom on new wood, so that ensures the hydrangea blooms every year, regardless of how harsh winter conditions are.
Light: Part sun to full sun
Watering: Follow a regular watering schedule during the first growing season to establish a deep, extensive root system. Water deeply, less frequently when established.
Soil: Adaptable, but prefers moist, rich, loamy soil. It is not particular as to soil type or pH.
Fertilizer: Feed in early spring with an all purpose fertilizer prior to the new growth.

| | |
| --- | --- |
| Item (775631128330) | Sold out |
---