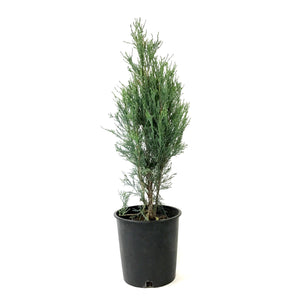 An improved selection with tight, bright blue foliage and a very narrow, upright form. Perfect as a tall, narrow screen where space is limited. Makes a colorful addition to the garden. Produces silvery blue berries from late spring to late winter.
Attributes
Type: Evergreen Shrub
Growth Habit: Upright, Narrow
Mature Height: 3 - 5m (10 - 16ft.)
Mature Spread: 60cm (2ft.)
Zone: 3
Feature Characteristics: Deer Resistant, Rabbit Resistant, Drought Tolerant
Ornamental Features
Foliage Colour: Silvery-blue

Care
General Maintenance: Little pruning is necessary. Prune broken or damaged limbs.
Light: Full sun
Watering: Water deeply, regularly during first growing season to establish an extensive root system. Once established, reduce frequency; tolerates moderate drought.
Soil: Highly adaptable and easy to grow in most well-drained soils; avoid overly wet conditions.
Fertilizer: Feed in early spring with an all purpose fertilizer prior to the new growth.

| | |
| --- | --- |
| Item (52512) | Sold out |
---