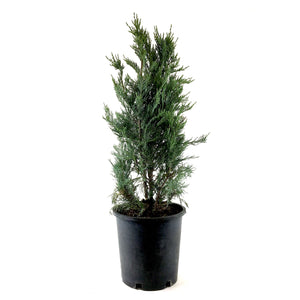 Exceptionally showy, silvery blue foliage on a broad pyramidal form makes this a highly attractive landscape accent, excellent for screens, hedges, and group plantings. This tough plant has a dense, compact-branching habit that resists grazing by deer.
Attributes
Type: Evergreen Shrub
Growth Habit: Upright, Pyramidal
Mature Height: 4 - 5m (13 - 16ft.)
Mature Spread: 1.5m (5ft.)
Zone: 3
Feature Characteristics: Deer Resistant, Rabbit Resistant, Drought Tolerant
Ornamental Features
Foliage Colour: Silvery-blue

Care
General Maintenance: Little pruning is necessary. Prune broken or damaged limbs.
Light: Full sun
Watering: Water deeply, regularly during first growing season to establish an extensive root system. Once established, reduce frequency; tolerates moderate drought.
Soil: Highly adaptable and easy to grow in most well-drained soils; avoid overly wet conditions.
Fertilizer: Feed in early spring with an all purpose fertilizer prior to the new growth.

| | |
| --- | --- |
| Item (787413335027) | Sold out |
---