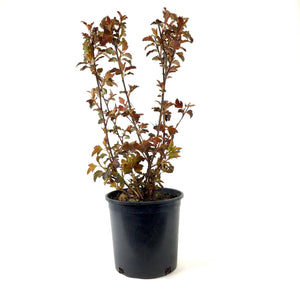 A hybrid from a cross between Diabolo and Dart's Gold. Leaves emerge golden then quickly changes to burgundy. Foliage accents clusters of white blooms in early summer followed by bright red seed heads. Shredding bark on older branches with age. Tolerates many soil conditions. Minnesota LPDC introduction.
Attributes
Type: Deciduous Shrub
Growth Habit: Upright, Rounded
Mature Height: 2 - 2.5m (6 - 8ft.)
Mature Spread: 2 - 2.5m (6 - 8ft.)
Zone: 3
Feature Characteristics: Deer Resistant, Dramatic Foliage Colour
Ornamental Features
Flower Colour: White
Flowering Time: May - June
Foliage Colour: Rosy-red with golden center, turning to burgundy.
Fruit: Ornamental red berries in the fall
Care
General Maintenance: Prune by one third in late winter. Clip spent flowers after bloom.
Light: Full sun to partial sun. Best leaf colour in full sun.
Watering: Water deeply and regularly during the first growing season to establish an extensive root system. Requires less water when established.
Soil: Very adaptable to both dry and moist locations. It is not particular as to soil type or pH.
Fertilizer: Feed in early spring with an all purpose fertilizer prior to the new growth.

| | |
| --- | --- |
| Item (787413099622) | Sold out |
---