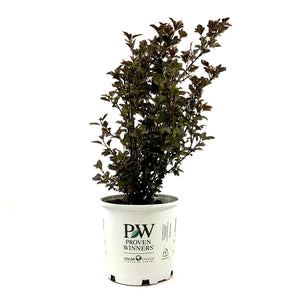 An exciting improvement to ninebark, Summer Wine® combines the fine texture and compact branching of Physocarpus Nana with the dark foliage of Physocarpus Diabolo. Summer Wine is an easy way to introduce wine-colored foliage into the home garden. It is fast-growing and has few, if any, pest problems. Its graceful, arching habit makes it very appealing in the landscape. It adds beautiful color and vibrancy to your garden, especially in spring. In early June it blooms with white button-like flowers that accent the leaves nicely. Pruning and other maintenance is rarely needed. Use it as a bold accent or part of a mixed border. Summer Wine may even be cut for use in arrangements. This is a trouble-free addition to either the home or commercial landscape. A Proven Winners® Color Choice® variety.
Attributes
Type: Deciduous Shrub
Growth Habit: Upright
Mature Height: 1.5 - 2m (5 - 6ft.)
Mature Spread: 1.5 - 2m (5 - 6ft.)
Zone: 3
Feature Characteristics: Deer Resistant, Drought Tolerant, Attracts Butterflies
Ornamental Features
Flower Colour: White
Flowering Time: June - July
Foliage Colour: Rich wine-red
Fruit: Ornamental brown-red berries in the fall
Care
General Maintenance: Prune by one third in late winter. Clip spent flowers after bloom.
Light: Full sun to partial sun. Best leaf colour in full sun.
Watering: Water deeply and regularly during the first growing season to establish an extensive root system. Requires less water when established.
Soil: Very adaptable to both dry and moist locations. It is not particular as to soil type or pH.
Fertilizer: Feed in early spring with an all purpose fertilizer prior to the new growth.

| | |
| --- | --- |
| Item (787413099127) | Sold out |
---