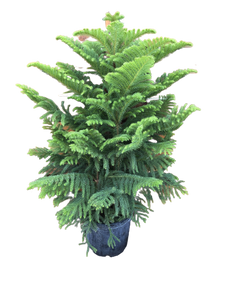 In its native environment (Norfolk Island, near New Zealand) this tree can grow to be 200 feet tall.  It has a straight trunk and symmetrical branches covered with short, inward-curving needles, that are soft to the touch.
Attributes
Type:
Tropical 
Height:
 3ft-8ft
Spread:
 1ft-3ft
Zone:
 10-11
Pet Safe:
 Mildly toxic to pets if ingested.
Care
General Maintenance:
 Repot every one to two years into a pot that is 2-3 inches larger.  Trim away any browning needles if neccessary.  
Temperature:
Thrives in normal household temperatures, between 15º-26º Celsius.   Keep away from drafts and drastic temperature changes.  Cannot tolerate temperatures below 1
º Celsius.
Light:
 Plenty of bright indirect light is ideal.  Direct sun can scorch the needles.
Watering:
 Norfolk like to be kept evenly moist, so you should water when the top 1-2 inches of the soil is dry to the touch.  Humidity is also important for this plant, so it's a good idea to use a pebble tray, humidifier, or mist your plant regularly. 
Soil:
 A mixture of sand. peat moss, and potting soil is best, to allow for proper drainage as well as enough support for the plant.
Fertilizer:
 Feed with a balanced liquid fertilizer every 2-3 weeks during the spring and summer months.
| | |
| --- | --- |
| Item (46424) | 2 in stock. |
---