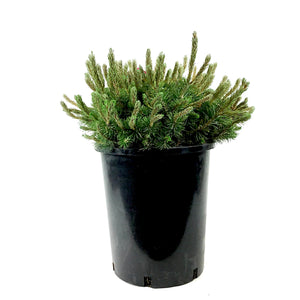 A popular dwarf conifer displaying dark green needles on dense branches. New purple-green cones mature to brown with symmetrical round shape. Resists winter burn and tolerates light shade. A very useful, slow growing evergreen for rock gardens, mass plantings, and in mixed groupings with broadleaf plants. Makes a great container specimen.
Attributes
Type: Evergreen Shrub
Growth Habit: Prostrate
Mature Height: 1 - 1.5m (3 - 5ft.)
Mature Spread: 2 - 3m (6 - 10ft.)
Zone: 2
Feature Characteristics: Deer Resistant, Rabbit Resistant, Drought Tolerant
Ornamental Features
Foliage Colour: Dark green needles

Care
General Maintenance: Shear candles in half when soft to maintain desired size. Typically in June. Height and width will depend on shearing.
Light: Full sun
Watering: Water deeply and regularly during the first growing season to establish an extensive root system; reduce frequency once established.
Soil: Grows easily in enriched, loamy and well-drained soils.
Fertilizer: Feed in early spring with an all purpose fertilizer prior to the new growth.

| | |
| --- | --- |
| Item (777647060222) | Sold out |
---