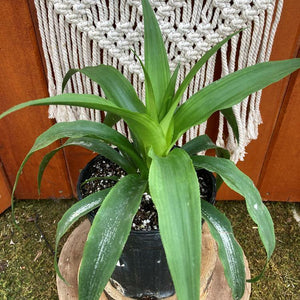 Secure and trusted checkout with
Gold Elite Pineapple is a unique addition to your home, or patio space.  It grows considerably larger fruit compared to other available pineapple plants.  The leaves are a deep blue-green and very symmetrical.  From the centre of the plant arise up to 200 purple-red blooms.  The blooms eventually set berries, which join together to form the fruit. 
If you need any more photos or additional information on this product, send us a message using the chat button on our website with the product name, and we will get back to you as soon as possible.
This plant has a representative product photo and the item you will receive may not be exactly as shown.
Attributes
Type:
Tropical 
Height:
 12in - 36in
Spread:
 36in - 48in
Zone:
 9-11
Pet Safe:
 Non-Toxic
Care
General Maintenance:
  Repot once a year in the spring, as growth will slow significantly if the plant becomes too rootbound.  
Temperature:
 Ideal temperatures are between 
20-30°C. 
Light:
 This plant is most successful when given plenty of bright light, but it can tolerate some shade.  It can also be kept under a grow light in the winter months.
Watering:
 This plant is drought tolerant, but prefers to be kept evenly moist.
Soil:
  Any well-draining potting mix will work well.  Avoid overly heavy/muddy soils.
Fertilizer:
 Fertilize every 3 weeks in the spring and summer with a general balanced fertilizer, or a citrus specific fertilizer. 
| | |
| --- | --- |
| Item (42898) | Sold out |
---