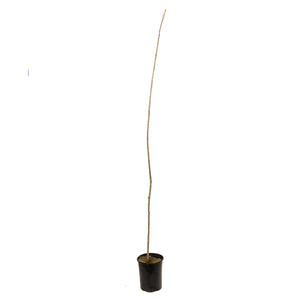 A seedless cottonwood selected for its high disease resistance, vigour, and upright growth form. Excellent for naturalizing and park plantings. Introduced by Jeffries Nurseries.
Attributes
Type: Deciduous Tree
Growth Habit: Upright
Mature Height: 24m (80ft.)
Mature Spread: 9m (30ft.)
Zone: 3
Feature Characteristics: Drought Tolerant, Attractive Foliage
Ornamental Features
Foliage Colour: Green, turning bright yellow-gold in the fall.

Care
General Maintenance: Little pruning is necessary. Prune broken or damaged limbs.
Light: Full sun
Watering: Water deeply and regularly during the first growing season to establish an extensive root system; reduce frequency once established.
Soil: Provide enriched, well-drained soil.
Fertilizer: Feed in early spring with an all purpose fertilizer prior to the new growth.

| | |
| --- | --- |
| Item (63324) | Sold out |
---