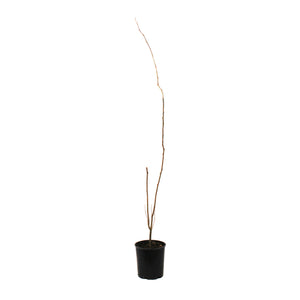 Narrow, columnar poplar. Green foliage has silvery underside and golden yellow fall colour. Fast-growing, hardy, seedless, disease resistant, adaptable and drought tolerant once established in a moist, well-drained soil. For use in a screen or windbreak.
Attributes
Type: Deciduous Tree
Growth Habit: Upright, Columnar
Mature Height: 10 - 12m (30 - 40ft.)
Mature Spread: 2 - 3m (6 - 10ft.)
Zone: 2
Feature Characteristics: Drought Tolerant, Attractive Foliage
Ornamental Features
Foliage Colour: Green, turning yellow in the fall.

Care
General Maintenance: Little pruning is necessary. Prune broken or damaged limbs.
Light: Full sun
Watering: Water deeply and regularly during the first growing season to establish an extensive root system; reduce frequency once established.
Soil: Provide enriched, well-drained soil.
Fertilizer: Feed in early spring with an all purpose fertilizer prior to the new growth.

| | |
| --- | --- |
| Item (52311) | Sold out |
---