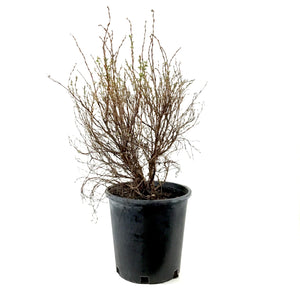 A versatile compact, rounded shrub with dark green, finely textured foliage in a mounded form. Produces a showy display of large, bright yellow flowers from early summer until frost. Attractive colour border or foundation plant. Makes a great small hedge.
Attributes
Type: Deciduous Shrub
Growth Habit: Rounded
Mature Height: 90cm (3 ft.)
Mature Spread: 90cm (3 ft.)
Zone: 2
Feature Characteristics: Deer Resistant, Rabbit Resistant, Drought Tolerant, Attracts Butterflies
Ornamental Features
Flower Colour: Bright yellow.
Flowering Time: June - October
Foliage Colour: Dark green

Care
General Maintenance: Little pruning is necessary but can be cut back to ground level every few years to rejuvenate vigorous new growth and better flower production. Prune broken or damaged limbs.
Light: Full sun
Watering: Follow a regular watering schedule during the first growing season to establish a deep, extensive root system. Water deeply, less frequently when established; tolerates some drought.
Soil: Thrives in light, average to poor, well-drained soils.
Fertilizer: Feed in early spring with an all purpose fertilizer prior to the new growth.

| | |
| --- | --- |
| Item (775631004948) | Sold out |
---