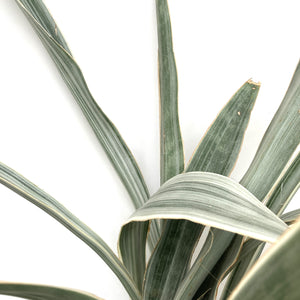 Secure and trusted checkout with
The Sansevieria is one of the most well loved plants in all of our homes, commonly called the Snake Plant, this plant has long, thick succulent leaves in the shape of swords. The leaves of the Sayuri Snake Plant are flat, pale green with a barely noticeable silvery-white striping. The Sayuri also has a very thin 'dead-edge' which can be seen on some other sansevieria varieties. Snake plants are also one of the best air purifiers that is also one of the easiest plants to take care of.

If you need any more photos or additional information on this product, send us a message using the chat button on our website with the product name, and we will get back to you as soon as possible.
This plant has a representative product photo and the item you will receive may not be exactly as shown.
Attributes
Type:
Tropical, Succulent
Height:
 24in - 48in
Spread:
 12in - 24in
Light:
Bright, Indirect Light to Low Light
Water:
Light
Zone:
10b-11
Pet Safe:
Toxic
Care
General Maintenance:
Snake plants are one of the easiest plant to take care of. Repot once your snake plant breaks its pot (or right before) into a pot 1 size larger. These plant love to be rootbound, and will grow their foliage much faster when they're not focusing on their roots. To propagate a snake plant, the easiest way is by division. Separate the pups from the mother plant and put them in their own pots. Propagation via cuttings is also possible, but cuttings are known to rot before producing roots
Temperature:
Snake plants love the mild climate of indoors. They prefer temperatures ranging from 18-25 degrees Celsius, but do not allow your plant to go below 15 degrees Celsius
Light:
For optimum growth, keep your snake plants in bright, indirect light. Direct light will burn their leaves. Snake plants are known to be survivors in near total darkness, but if kept in the dark, they will grow extremely slowly and will eventually die without light
Watering:
Snake plants have very succulent leaves, and rarely need watering. Water when 50-70% of the soil is dry. They will need more frequent watering during the growing season, but still very sparingly compared to most other plants
Soil:
Snake plants will thrive in a blended soil of 50% regular potting soil and 50% cactus/succulent soil. They will also do well in pure cactus soil, but the added organic nutrition of potting soil will help growth
Fertilizer:
? Snake plants rarely need fertilizing. When fertilizing, feed with a balanced houseplant mix once a month during the growing season (April - August), and stop during dormancy
| | |
| --- | --- |
| Item (48765) | Sold out |
---