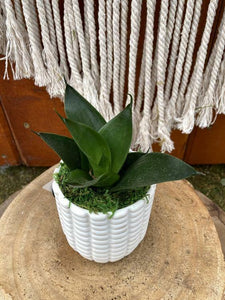 Secure and trusted checkout with
This 3in planter features a compact birds nest style Sansevieria with simple dark green foliage that stands out and contrasts many other brighter houseplants well. These small snake plants are incredibly easy to care for and make a great addition to virtually any space.
If you need any more photos or additional information on this product, send us a message using the chat button on our website with the product name, and we will get back to you as soon as possible.
This plant has a representative product photo and the item you will receive may not be exactly as shown.
Attributes
Type:
Tropical  
Height:
 Up to 10in
Spread:
 Up to 6in
Zone:
 10 - 11
Pet Safe:
 Toxic if ingested by pets
Care
General Maintenance:
 These plants are generally very easy to take care of and will tolerate low light, low water, and generally can handle a fair amount of neglect. Sansevieria will actually do fairly well once they become somewhat root bound, but if you want to repot use a pot one size larger and do the repotting in the early spring. Remove dust by wiping the foliage down with a damp cloth. Remove damaged or dying leaves. 
Temperature:
 Sansevieria will do well in average home temperatures. Keep your plant away from large, cold windows and sudden drafts. Temperatures below 10
° Celsius will damage your plant.
Light:
 This plant will tolerate very low light levels, but some bright light will bring out the vibrant colours of your plant. Avoid direct light as that may damage the foliage and ruin its colour. 
Watering:
 Water about once a week, allowing soil to dry out between watering. Reduce watering in winter. These plants will tolerate average house humidity. Overwatering is one of the most common problems with Sansevieria and will cause root rot. 
Soil:
 Any well-draining potting mix will work well. 
Fertilizer:
 Feed your plant about once every three weeks during the spring and summer with a general purpose houseplant fertilizer diluted to half strength. Too much fertilizer will cause your plants leaves to droop. 
| | |
| --- | --- |
| Item (44694) | Sold out |
---