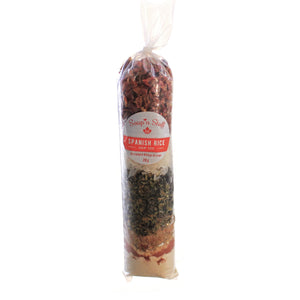 Secure and trusted checkout with
All you need is water. A can of tomato soup and ground beef enhance the flavour, but it tastes great either way!
Cooking
COOKING INSTRUCTIONS
Additional ingredients needed:
8 cups water
1 can tomato soup (optional)
1 lb ground beef (optional)
STOVE TOP: If using ground beef, brown first and drain fat. Combine everything in a pot bring to a boil and simmer for 30 – 45 mins.

Nutrition
Weight: 233 g
Dimensions: 2 × 2 × 8 in
Servings: 6

Ingredients: vegetable base (glucose solids, dextrose, potato starch, vegetable powders (onion, carrot, tomato, garlic), salt, yeast extract, chick pea flour, spices & spice extractives, canola oil, flavour, disodium guanylate, disodium inosinate, silicon dioxide, colour) dried red & green peppers, rice, dried onion, roasted red pepper spice, thyme, garlic, cayenne

Allergens: none
| | |
| --- | --- |
| Item (020151234208) | 10 in stock. |
---