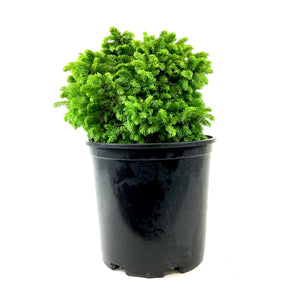 Rich green needles form a dense, naturally flat-topped globe. This small, slow-growing evergreen requires practically no maintenance. A stunning accent for landscape and rock gardens, or planted as low filler between larger conifers in borders.
Attributes
Type: Evergreen Shrub
Growth Habit: Compact, Rounded
Mature Height: 30 - 60cm (1 - 2ft.)
Mature Spread: 30 - 60cm (1 - 2ft.)
Zone: 2
Feature Characteristics: Deer Resistant, Rabbit Resistant, Drought Tolerant
Ornamental Features
Foliage Colour: Rich green needles

Care
General Maintenance: No pruning necessary.
Light: Full sun to partial shade.
Watering: Water deeply and regularly during the first growing season to establish an extensive root system; reduce frequency once established.
Soil: Grows easily in moist, slightly acidic, loose, sandy or gravelly loam to fine clay soils.
Fertilizer: Feed in early spring with an all purpose fertilizer prior to the new growth.

| | |
| --- | --- |
| Item (787413363525) | Sold out |
---