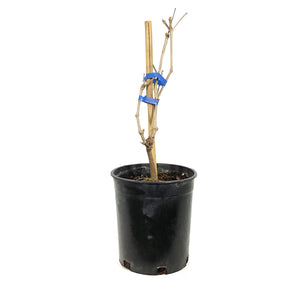 This fast growing vine easily clings to walls and other surfaces for a quick cover, with more open growth than its cousin Boston Ivy. The dark green foliage turns brilliant orange-red in fall. Works well as a groundcover, blanketing unsightly areas. Its small, purple-black, ornamental berries are a good winter food source for birds.
Attributes
Type: Deciduous Vine
Growth Habit: Climbing
Mature Height: 6 - 10m (20 - 30ft.)
Mature Spread: 2 - 2.5m (6 - 8ft.)
Zone: 3
Feature Characteristics: Attracts Birds, Rabbit Resistant, Drought Tolerant
Ornamental Features
Foliage Colour: Dark green, turning orange-red in the fall.
Fruit: Ornamental purple-black berries in the fall.

Care
General Maintenance: Provide support such as a wall or fence. Prune annually to control size.
Light: Full sun to partial shade.
Watering: Water deeply and regularly during the first growing season to establish an extensive root system; reduce frequency once established.
Soil: Grows easily in average, well-drained soils; adaptable to most soil types.
Fertilizer: Feed in early spring with an all purpose fertilizer prior to the new growth.

| | |
| --- | --- |
| Item (52487) | Sold out |
---