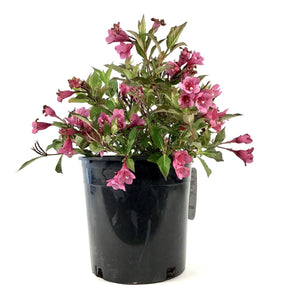 Enjoy a spectacular display of scented, tubular, rosy-pink blooms against a backdrop of purple-tinged foliage. Use to add color in shrub borders or as a garden accent. Hardy, dwarf weigela.
Attributes
Type: Deciduous Shrub
Growth Habit: Rounded
Mature Height: 60 - 90cm (2 - 3ft.)
Mature Spread: 60 - 90cm (2 - 3ft.)
Zone: 3
Feature Characteristics: Deer Resistant, Rabbit Resistant, Attracts Birds, Attracts Butterflies, Attracts Hummingbirds
Ornamental Features
Flower Colour: Rosy-pink
Flowering Time: May - June
Foliage Colour: Purple-green

Care
General Maintenance: For a formal appearance, shear annually after flowering.
Light: Full sun to partial sun.
Watering: Water deeply and regularly during the first growing season to establish an extensive root system; reduce frequency once established.
Soil: Prefers average to moist conditions. It is not particular as to soil type or pH.
Fertilizer: Feed in early spring with an all purpose fertilizer prior to the new growth.

| | |
| --- | --- |
| Item (777647450825) | Sold out |
---