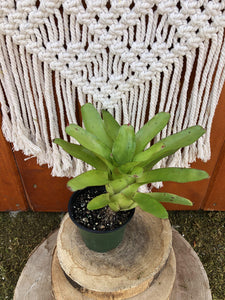 Secure and trusted checkout with
The Sour Apple has beautiful, bright green-yellow leaves.
If you need any more photos or additional information on this product, send us a message using the chat button on our website with the product name, and we will get back to you as soon as possible.
This plant has a representative product photo and the item you will receive may not be exactly as shown.
Attributes
Type:
Tropical 
Height:
 16in - 24in
Spread:
 18in - 24in
Light:
Bright indirect
Water:
Moderate to High
Zone:
 10 - 11
Pet Safe:
Non-toxic 
Care
General Maintenance:
 Requires high humidity and good aeration. Prefers shallow pots.
Temperature:
 18°C - 27°C
Light:
 Bright indirect light is best.
Watering:
 Water thoroughly when the top inch of soil is dry. Water can be poured into the cup at the base of the leaves, but empty this weekly to remove any debris or insects that may have been caught in the cup. Bromeliads love high humidity, so a pebble tray may be needed for optimal health.
Soil:
 Any well-draining soil mixture that retains moisture. Mixing in orchid soil helps with aeration and promotes optimal growth.
Fertilizer:
Fertilize every two weeks during the growing season with a diluted fertilizer.
| | |
| --- | --- |
| Item (46280) | Sold out |
---