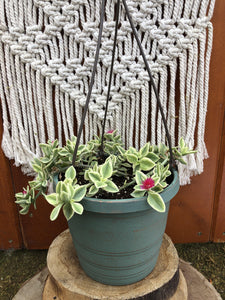 The variegated Dorotheanthus is a beautiful trailing plant that looks great in hanging baskets or cascading down the side of a large plant stand. The foliage is a silvery-green with a creamy colouration on its edges, and the blooms are a brilliant pinky-red. 
This plant has a representative product photo and the item you will receive may not be exactly as shown.
Attributes
Type:
Tropical  
Height:
 6in - 10in
Spread:
 20in - 24in
Light:
Direct or Bright Indirect
Water:
Moderate
Zone:
 9 - 11
Pet Safe:
 Non-Toxic
Care
General Maintenance:
 Can be easily propagated by cuttings. Does not require much specific care. 
Temperature:
 Ensure that your plant does not get colder than 
10°C. This plant is fairly tolerant of high temperatures. 
Light:
 This plant thrives in partial to full sun. 
Watering:
 Water only when the first few inches of the soil become dry. Do not overwater, and ensure that your pot has good drainage via drainage holes or a bulky medium on the bottom. 
Soil:
 Needs a gritty, well-draining soil such as a cactus mix. 
Fertilizer:
Does not require regular fertilizing, but if you feel the need you can do a light feeding with a general houseplant fertilizer once a month.  
| | |
| --- | --- |
| Item (46382) | Sold out |
---