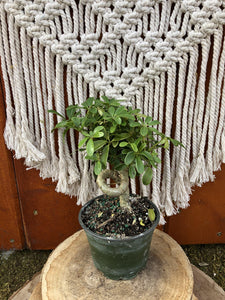 Secure and trusted checkout with
The Schefflera Coiled Trunk is a great idea for those who want a bonsai without the typical difficult care associated with a bonsai. This easy to care for tree has a very interested coil-shaped trunk and bright green, rubbery, shiny leaves. 
If you need any more photos or additional information on this product, send us a message using the chat button on our website with the product name, and we will get back to you as soon as possible.
This plant has a representative product photo and the item you will receive may not be exactly as shown.
Attributes
Type:
Tropical 
Height:
 8in - 16in
Spread:
 8in - 12in
Zone:
 10 - 11
Pet Safe:
 Toxic to pets and children if ingested
Care
General Maintenance:
 These plants do have the potential to be propagated by cuttings, but it can be a more complicated procedure than other tropical plants. Pruning can be done if your plant is exceptionally leggy or overgrown. These plants are prone to aphids, so be wary. 
Temperature:
 This plant will begin to lose its leaves if it is exposed to temperatures below 15
° 
Celsius, or if exposed to sudden drafts or very dry heating vents. 
Light:
 These plants prefer bright, indirect light. A plant that begins to get droopy or leggy often means it is not getting enough light. 
Watering:
 Water regularly, ensuring the soil is evenly moist but not waterlogged. Mist the leaves regularly. If the plant begins to yellow or drop leaves you are likely overwatering. 
Soil:
 Prefers a rich, slightly acidic soil. 
Fertilizer:
 Feed your Schefflera once or twice a week with a liquid based fertilizer during the spring and summer. These are heavy feeder plants that will benefit from the nutrients. 
| | |
| --- | --- |
| Item (46453) | Sold out |
---